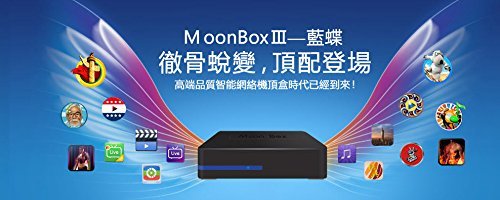 Okay
Last month, I finally got a chance to test the Moonbox III Smart TV player. I got one for my parents so that they can watch TVB dramas and news from China/Hong Kong.
Here's the Moonbox 3 hardware specs:
A9 Cortex Dual Processor
5G DMIPS High Performance 3D GPU
1GB RAM (DDR3)
8GB Nand Flash Memory
Advanced OTA Updating
Micro SD Storage slot (Up to 32GB!)
802.11b/g/n internal Wifi
HDMI video output
10/100 Ethernet Port
Composite Audio/Video Out
2x USB 2.0 Ports
Android 4.2
The first week everything seems working and were good. All the shows and channels were streaming and loading up fine. After that, channels stop working. This lasted for weeks and until recently some channels started to come up again.
Reading from online, it looks like their servers are under a DDoS attack from their competitors. This is similar to the time when the TVPad servers are down.
Searching online for a work around since the Moonbox is also an android device, I found a few apps that stream TVB channels. I installed that temporary on the device so that my parents have some entertainment to watch.
I also found out recently that Moonbox also has a temporary solution. They didn't advertise this though. This is to install an app called "Ray of HD". With this app, you can watch the same channels on your Moonbox.
For those that want to download and install this app, follow the below steps. It took me some time to even find this:
1 – On the Moonbox, launch the "TV Apps Garden"
2 – On the left hand side, select the search option and type in '1111hk'
3 – If your device is supported, on the right hand side, you will see the "Ray of HD" app to download and install.
4 – Once installed, launch "Ray of HD" app and you should be able to watch all the channels.