How To Remove and Fix Windows Security 2012 Trojan Virus?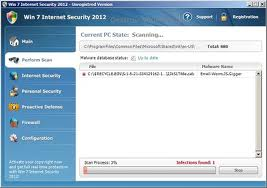 If your computer has been infected with the Windows Security 2012 anti spyware program, you know how annoying this virus is. It can make your computer not usable becuase every time you try to run an application it pops up with their anti spyware message. What the virus does is modify your registry so that whenever you open up an .exe file it will launch their program first.
If you want to remove this virus, read and follow the instructions below on how to remove it.
First of all, Windows Security 2012 trojan might come in different varients with different name but all of them pretty much do the same thing to your computer. That is alerting you with a fake messages that your computer is infected with viruses and offered you option to fix it. This is a scam so don't bother buying from them.
Windows Security 2012 Varies Names:
– XP Antispyware 2012
– XP Antivirus 2012
– XP Home Security 2012
– XP Internet Security 2012
– XP Security 2012
– Vista Antispyware 2012
– Vista Antivirus 2012
– Vista Home Security 2012
– Vista Internet Security 2012
– Vista Security 2012
– Win 7 Antispyware 2012
– Win 7 Antivirus 2012
– Win 7 Home Security 2012
– Win 7 Internet Security 2012
– Win 7 Security 2012
1. Download the necessary removal softwares to an USB key or burn them to a cd or dvd
– Download the .exe file extension fix by going to the site below
http://www.dougknox.com/xp/file_assoc.htm
– Download and install the Malwarebytes software with the latest definition
http://download.cnet.com/Malwarebytes-Anti-Malware/3000-8022_4-10804572.html
http://www.malwarebytes.org/products/malwarebytes_free
– Download RKill
http://download.cnet.com/RKill/3000-8022_4-75221743.html?tag=mncol;1
2. Start your computer in Safe Mode with Networking by pressing F8 during startup
3. Log in with the administrator username and password
4. Run the fix for the .exe file extension
* You might need to save the .exe file fix on an usb key or burn it to a cd/dvd
5. Run the RKill app to kill any running processes that are assosicated with the virus
6. Install and do a full scan of your computer with the Malwarebytes software
7. MBAM will scan your computer for viruses and when it finished it will give you a report with options to remove them
8. Choose "Remove Selected" to remove virus
9. Reboot your computer normally and the Windows Internet Security 2012 virus has been removed