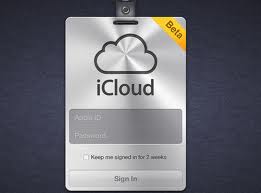 It looks like Apple has launched their iCloud.com website this week, which is still in beta. Browsing to the iCloud.com site will bring you to an ID tag picture that allow you to type in a username and password.
iCloud is a service where user can have their data (music, pictures, etc…) automatically uploaded into Apple's cloud servers. This way it allows all your devices and computers to sync. Saving data information in Cloud servers will give you access to your data no matter where you are as long as there is an internet connection.
According to Apple, iCloud is free with 5GB of storage. For users that need more storage, iCloud also has a pay services where you can buy. This is just a beta launch of the iCloud.com site from Apple which give developers extra time to test out their service. The official launch will be in the coming months toward the end of the year.